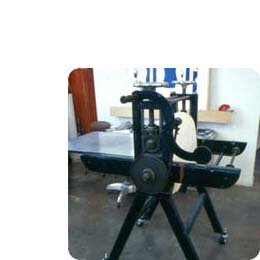 Paulson Bott Press specializes in limited edition intaglio prints. The press emerged from the San Francisco Bay Area's rich tradition of fine art printmaking. Paulson Bott Press's philosophy is to facilitate rather than direct an artist, creating an environment where artists can do their best work.
In January of 1997, the press launched its first publication with four-color etchings by Christopher Brown. Since then, Paulson Bott Press has published over 450 editions with more than 35 artists including Tauba Auerbach, Ross Bleckner, Isca Greenfield-Sanders, the Quilters of Gee's Bend, Kerry James Marshall, and Martin Puryear.
Paulson Bott Press invites artists who reflect a wide range of aesthetic and thematic approaches. The artist sets the tone. Our studio becomes the artist's studio.
Paulson Bott Press is open Tuesday – Friday 11 – 5pm and Saturdays Noon – 4pm. .